When:
February 9, 2018 @ 7:30 pm
2018-02-09T19:30:00-06:00
2018-02-09T19:45:00-06:00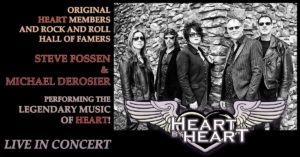 In 2013, bassist Steve Fossen and drummer Michael Derosier were inducted into the Rock and Roll Hall of Fame as original members of Heart. That 70's-era lineup brought to the world the massive radio hits Magic Man, Crazy On You, Dreamboat Annie,  Barracuda, Kick It Out, Heartless, Straight On, Dog & Butterfly, Even It Up and much more.
Now Fossen and Derosier are back together with HEART BY HEART, a new band featuring powerhouse vocalist Somar Macek, multi-talented guitarist/keyboardist/vocalist Lizzy Daymont, and legendary Seattle guitarist Randy Hansen. Honoring the magic and power of the music of Heart, this incredible lineup considers it their responsibility to bring the songs to the stage in their original form.
More than just a tribute band, don't miss this concert with the people who helped make the classics the classics!